Susan Pearcy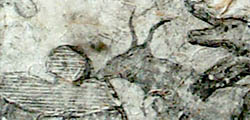 Detail of Gilded Fragments
Susan Pearcy graduated from New York University with a B.S. in Painting, Graphics and Sculpture. Since then she has participated in shows around the world, including:
The Pushkin Museum, USSR
Chemalier Museum, France
State Tretyakov Gallery and Red Chambers, USSR
University of Brasilia, Brazil
DC & B Gallery, Brussels
Museum of Modern Art, Argentina
National Museum of Women in the Arts, Washington DC
The Hudson River Museum, New York
and many more. Pearcy's work is in the permanent collections of the National Gallery of Art (Rare Books Collection), the National Museum of Women in the Arts, the Corcoran Gallery of Art, the Pushkin Museum in Moscow, the Museum of Modern Art in Argentina, the Chemalier Museum in France, and others. She has also received numerous awards and grants to further her work, both locally and abroad.

Working in a variety of media, her techniques are well suited to the feel of each image. In the handmade paper series, monoprints resemble cave paintings. The irregular edges and surfaces add a sense of weight and history to the pieces. Pearcy's figurative work is more traditional, graceful. In contrast, the etchings have a sharper linear structure. Each piece has its own style and presence.