Michael Turpenoff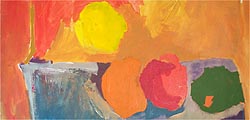 Detail of Still Life Dynamics I
Rich color and dynamic compositions bring life and movement to these works by Michael Turpenoff. Working in acrylic and pastel, Turpenoff's work focuses on conveying the conflict and contrast of opposites. It is this conflict that fuels the human experience and keeps the world in motion.
Although the subject matter is mostly still life and landscape, these compositions are anything but still in form and color. The planes and edges define the structure of the images while vivid complementary colors lead the eye.
Turpenoff's energetic treatment of traditional subject matter fills these images with color and brings life to the room.