David Crown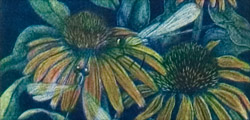 Detail of Dragonflies
David Crown, Director of the International Mezzotint Society, was born in London England and educated at Cambridge University, the University of London and the London Hospital Medical School. He became a physician in 1947 and moved to Rochester, NY in 1948. He practiced internal medicine until 1982 when he retired. This has enabled him to pursue full-time his other career as an artist. In 1983 he moved to Gainesville, Florida.
Dr. Crown works in many different media: mezzotints, woodblocks, etchings and collographs, oil painting, and sculpture in steel, aluminum and bronze. He conducts workshops and demonstrations, and gives lectures on the history of printmaking and on a variety of printmaking topics and techniques.
He has been awarded a residency for printmaking at the prestigious Frans Masereel Center in Belgium. His works are in numerous collections across America, Canada, Japan and Europe.